When God called Daddy to preach, he thought HE made a mistake! Daddy gave God every excuse why he couldn't, but God had plans! There are some amazing preachers who can preach the Word, but they are not ministers of the Holyghost! There is a difference!
I wish I could put into words how God called BOTH my parents into the ministry! They are a team! You literally can not have one without the other! Daddy has NEVER gone anywhere to preach without Momma! Never! When my brother & I lived at home, they never went anywhere to minister without us! We were always together, and I am forever grateful for that! Family was first, and ministry was our family calling. Still is.
Momma has always been Daddy's "right hand" in ministry! She is not a preacher! However, she has been "accused" of being one!
She will quickly tell you, "I am not a preacher, I just love lifting up the Lord!" Let ME tell you though…Momma can out "testify" most preachers!
I have also seen God use Momma in all nine gifts of the Holyghost!
Just recently God sent my parents to a church they had never been to before, didn't know anyone, they just walked in for a visit. God had spoken, and they obeyed! The Pastor didn't know them, but acknowledged them, and asked Daddy to testify. He did, the Lord anointed him, and folks were blessed. At the end of the service, a lady spoke up and said, "We would like to hear his wife testify too!" Momma's heart was already tuned into the Holyghost, HE had been speaking to her throughout the service! The pastor acknowledged the lady's request, and asked Momma to testify! Momma knew she had to obey the Holyghost! She said, "Somebody here is contemplating divorce. You haven't told anyone, but you are thinking of going through with it!" She continued with "You need to let the Lord help you today!"
A hush came over that room! Finally, a lady stood up crying! "It's me! I had planned on going tomorrow to file the divorce papers!" The lady's husband was there, and he didn't even know about it! No one in the church knew! She and her husband both went to the altar and prayed for restoration in their marriage!
Holyghost Operation: "Save a Marriage" complete! That's MINISTRY! Nobody had to "preach a sermon" for the Holyghost to let that lady know, she was making the wrong decision! He just sent two of his special agents a few hundred miles, to deliver the message!
No, Momma don't preach, she just loves lifting up the Lord!
I have seen God use Momma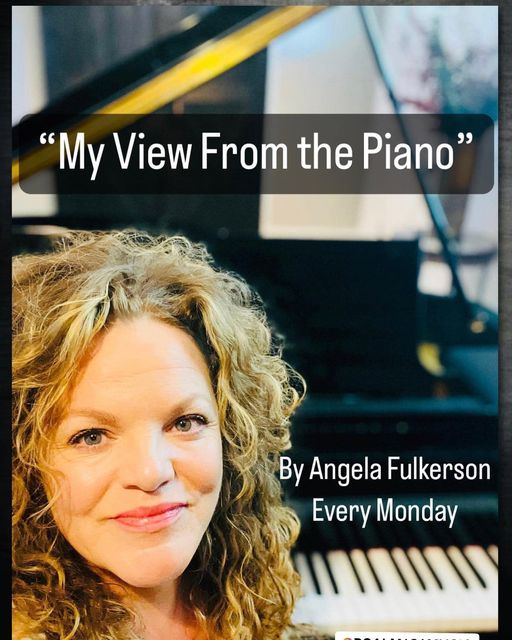 to get his message to someone many times from "My View From the Piano!"